"One Cannot Think Well, Love Well, Sleep Well, If One Has Not Dined Well!"
I didn't think it was possible to eat as much as I did in Turkey, and there's a fat chance that I gained a few pounds on the trip, but it was so worth it! The food was really tasty, and the only reason I actually stopped eating, was because we were racking up a pretty big bill most nights…
We visited quite a few restaurants and cafes while in Istanbul, but these were my favourite dishes, so if you ever go to Turkey visit these restaurants!
We took a short trip to a small village called Arnavutköy, which translates to Albanian Village, and coincidentally my partner is from Albania so he was keen to go and check the place out. We visited a fish restaurant called Sur Balik, and it was a little bit pricey but the quality of the food made up for it. I'm the type of person that will either budget everything and spend the bare minimum on an outing, or I'll splash out on money as if I'm a rich b*tch, but only if it's super worth it (and this restaurant was). It wasn't just the fish that was amazing, the view was too, which you can see on my previous post The Reunion.
We started off with some warm crispy bread and olives, then moved onto stuffed mussels (which I forgot to take a photo of because I was too excited), and finally finished with the main course; Sea Bass and Sea Bream, garnished with caramelised onion and potato wrapped in red cabbage, and a side serving of salad.
We also visited a cute little cafe, Türkçe Meze in Sütlüce, which was right next to our hotel. As soon as I opened the menu, I spotted their cheese board appetiser, and since I'm obsessed with cheese, I obviously ordered one. It was served with fresh fruits, warm buttery bread and golden glazed crackers. Every type of cheese was so creamy and delicious, it tempted me to order another one, but the little angel on my shoulder reminded me of the unwanted calories.
And of course Salt Bae's restaurant is on my list of favourite places! If you don't know who the famous Salt Sprinkler is…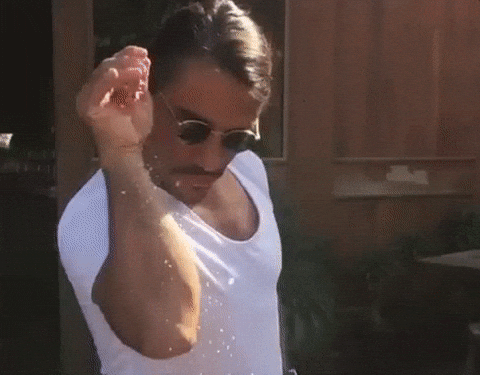 He's the owner of Nusr-et Steakhouse, and seasons his meat in a pretty unique way. #SaltBae started trending worldwide and is probably what made him so famous, but he's not just recognised for being 'Salt Bae'. He's an extremely talented chef, and the high quality meat served in his restaurants is so juicy and mouth watering. People visit just to try the steaks (and with the hope that they can get their meat personally seasoned by him). We went to his steakhouse in Etiler which as predicted, was very busy, but we were smart enough to make a reservation so we weren't queuing for an hour like everyone else.
So there you have it, my favourite dishes! As I was only in Turkey for 4 days, I didn't have much time to explore all of the different cuisines, but I definitely plan on going back and tasting more traditional dishes. Until then, I'll just have to reminisce on these Turkish Delights.
Yours truly,
Tinashe x